The 2017 Madeira Schools Foundation Gold Classic was a Success!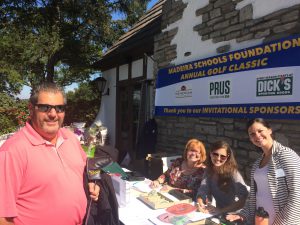 We raised almost $20,000 for our students, teachers and schools!
Thank you to our Invitational Sponsors:

Thank you to all of our 2017 Hole Sponsors:
UBS
Prus Construction
Sunshine Pediatric Therapy Services
Cincinnati Mosaic
Pat and Jacque Gentile
Chuck Dimmitt
Nehemiah
RWA Architects, Inc.
Eric Geiger Agency
Greg and Sheri Schweppe
Louisville Tile of Cincinnati
Busken
Trey Isgrig
The Shults Family
Chris Nachtrab
Curious about your homes value? Call John (513) 500-7474
GBBN
Dick's Sporting Goods
Matsudo & Weber…Proud Supporters of the Madeira Schools Foundation
Stockyards Bank & Trust
Ann & Chris Ramos