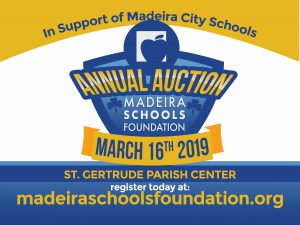 This event is SOLD OUT.  You can still bid in our online auction here: www.MSFAuction.givesmart.com 
The Madeira Schools Foundation was founded on July 20, 1984 by a group of enthusiastic parents and community members who had worked to make the high school's outdoor track a reality. As time passed they recognized the need to assist the district in achieving its goals for continued quality education.
The Madeira Schools Foundation is a 501 c 3 nonprofit organization that is dedicated to raising awareness and securing resources that enhance the education of students in the Madeira City Schools.  This volunteer organization comprised of parents, alumni and members of our local education and business communities works diligently with the administration of Madeira City Schools to provide excellent opportunities, facilities, technology, faculty and experiences to the students of Madeira City Schools.