2017 MADEIRA SCHOOLS FOUNDATION
GOLF CLASSIC!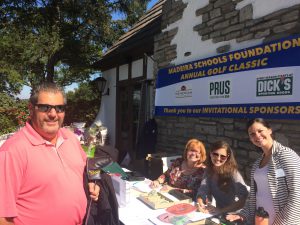 Thank you for another successful golf outing!  Thank you to our Invitational Sponsors:

Thank you to all of our 2017 Hole Sponsors:
UBS
Prus Construction
Sunshine Pediatric Therapy Services
Cincinnati Mosaic
Pat and Jacque Gentile
Chuck Dimmitt
Nehemiah
RWA Architects, Inc.
Eric Geiger Agency
Greg and Sheri Schweppe
Louisville Tile of Cincinnati
Busken
Trey Isgrig
The Shults Family
Chris Nachtrab
Curious about your homes value? Call John (513) 500-7474
GBBN
Dick's Sporting Goods
Matsudo & Weber…Proud Supporters of the Madeira Schools Foundation
Stockyards Bank & Trust
Ann & Chris Ramos
The Madeira Schools Foundation was founded on July 20, 1984 by a group of enthusiastic parents and community members who had worked to make the high school's outdoor track a reality. As time passed they recognized the need to assist the district in achieving its goals for continued quality education.
The Madeira Schools Foundation is a 501 c 3 nonprofit organization that is dedicated to raising awareness and securing resources that enhance the education of students in the Madeira City Schools.  This volunteer organization comprised of parents, alumni and members of our local education and business communities works diligently with the administration of Madeira City Schools to provide excellent opportunities, facilities, technology, faculty and experiences to the students of Madeira City Schools.