Applications are now closed. Please try again next year.
Ruth Slagle Crawford Scholarship Fund
The Madeira Schools Foundation is proud to offer this $5,000 scholarship to any Graduate of Madeira High School who is currently enrolled and pursuing a college degree.
Per direction from the Ruth S. Crawford Revocable Trust dated June 30, 1994…"the Ruth Slagle Crawford Scholarship Fund in memory of Grantor's parents, Mr. and Mrs. W.C. Slagle, to be used for the purpose of giving financial assistance to students in attaining a college education who would be unable to continue their education without such financial assistance.  The selection of such students, the amount of the assistance and the regulations covering the administration of this gift shall be at the sole discretion of the Madeira Schools Foundation."  The MSF Scholarship Committee will review the applications and choose the recipient.  
Ruth Slagle Crawford Alumni Scholarship Winner
Congratulations to the 2023 Alumni scholarship award winner: Max Sowards, 2011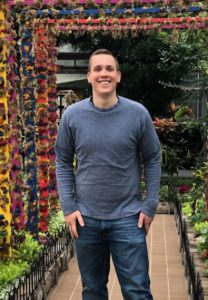 "The Ruth Slagle Crawford scholarship award is not only a great honor to receive, but it will help alleviate the financial burden of college tuition costs on my family, considering I am a new father. My degree in Business and Finance will help provide the expertise I need to continue progressing in my career. I am very thankful for the all of the investment Madeira has provided me throughout the years, and I owe a great deal of my success to my education and resources that have been provided." -Max
Applications must be submitted to the Madeira Schools Foundation BY Wednesday, November 1, 2023.
LATE SUBMISSIONS WILL NOT BE ACCEPTED.
The following information and supporting documentation must accompany the application in order for the application to be considered complete.  Less than full documentation will disqualify the applicant and the application will be eliminated.
College transcript of courses completed

.  Must be currently enrolled for the 2023-2024 school year and demonstrate completion of the equivalent of a year's worth of college credits.

An essay 500 to 1000 words in length that demonstrates how the student is succeeding in college via his/her personal drive and strong work ethic; and how he/she is financially supporting his/her education via employment.
Two (2) letters of recommendation attached below.  One letter must be from a college professor or advisor and one from an employer/supervisor.
Financial Information Sheets Parts 1 and 2 included within this application.
ALL INFORMATION WILL BE HELD IN STRICTEST CONFIDENCE BY THE SCHOLARSHIP COMMITTEE.  AFTER JUDGING, ALL APPLICATIONS WILL BE DELETED.  
Scholarship payment will be sent directly to the college, university, or vocational school of the recipient's choice.
Applications must be received no later than November 1, 2023.
All questions should be directed to Mindi Hilgeman at  MHilgeman.MSF@gmail.com or (513) 924-3725.